You also need a sauna controller when you buy a HUUM electric heater. We have created a smart sauna control system UKU and control panels with different designs. Making a choice is easy if you learn to know the main features of UKU and the difference between the control system's two models.
The UKU control system offers two different models and comes with a standard black wall-mounted control panel. However, customers can choose from various design options if they desire a different look for their control panel. The choice of control system model depends on whether the customer wants to heat their sauna using the controller on the wall or their mobile phone.
The UKU control system turns on the heater, lets you set the temperature, timer, and other functions, and can be connected to additional devices such as ventilation or a steamer.
UKU control system models:
If you get UKU Local and change your mind later, upgrading the system for Wi-Fi connectivity with a little extra charge is possible.

Please read how to do this on our customer support page.
Both UKU models share the same essential functions and design. The main difference is that UKU Local is made for only on-the-spot use, while UKU WiFi can also be controlled through HUUM mobile app.
Continue reading and discover more in detail about what these sauna controllers can do and what kind of saunas they suit.
Main features of UKU sauna controllers
Let's first take a look at the features that the two UKU models have in common:
They are suitable for any manufacturer's electric sauna heater as long as it works with a controller,  has a temperature control function, and its output does not exceed 18 kW.
The extension box is required when connecting an electrical heater over 11 kW.
Sets the target temperature
You can choose a target temperature between 104-230° F  (40-110 °C).
You can choose a heating period of 3, 6, 12, or 18 hours.
A timer function allows you to select a starting time for heating. For example, if you would like the sauna to be hot when you arrive home from work, you could just set the timer before you leave home in the morning. This way, a hot sauna will await you when you return.
It can be connected to the lights/ventilation and steamer
UKU sauna controllers can be connected to the lights/ventilation and steamer functions of the sauna, allowing you to control all of them from the same remote control.
Safety features include overheating protection, a door sensor, and a child safety lock. Overheating protection stops the heating when the temperature in the sauna gets too high. This happens around 266 °F  (130°C). Thanks to the door sensor, your remote control will not start heating if the sauna room door is open. The child safety lock prevents little children from activating the sauna heater.
Elegant and minimal design
All HUUM sauna control panels have an elegant and minimal design, and they are easy to use. Just one button gets everything done and gives the remote control an overall clean look.
Whichever model you prefer, you can choose a case that best suits your taste and the interior of your sauna. UKU controllers come in wooden, glass, and different colored plastic cases.
HUUM sauna control panels are available in three different casings:
CLASSIC – with plastic casings: Black, White, Gray
GLASS – with glass casings: Glass, Mirror, Gold
WOOD – with handmade casings made of thermo-treated ash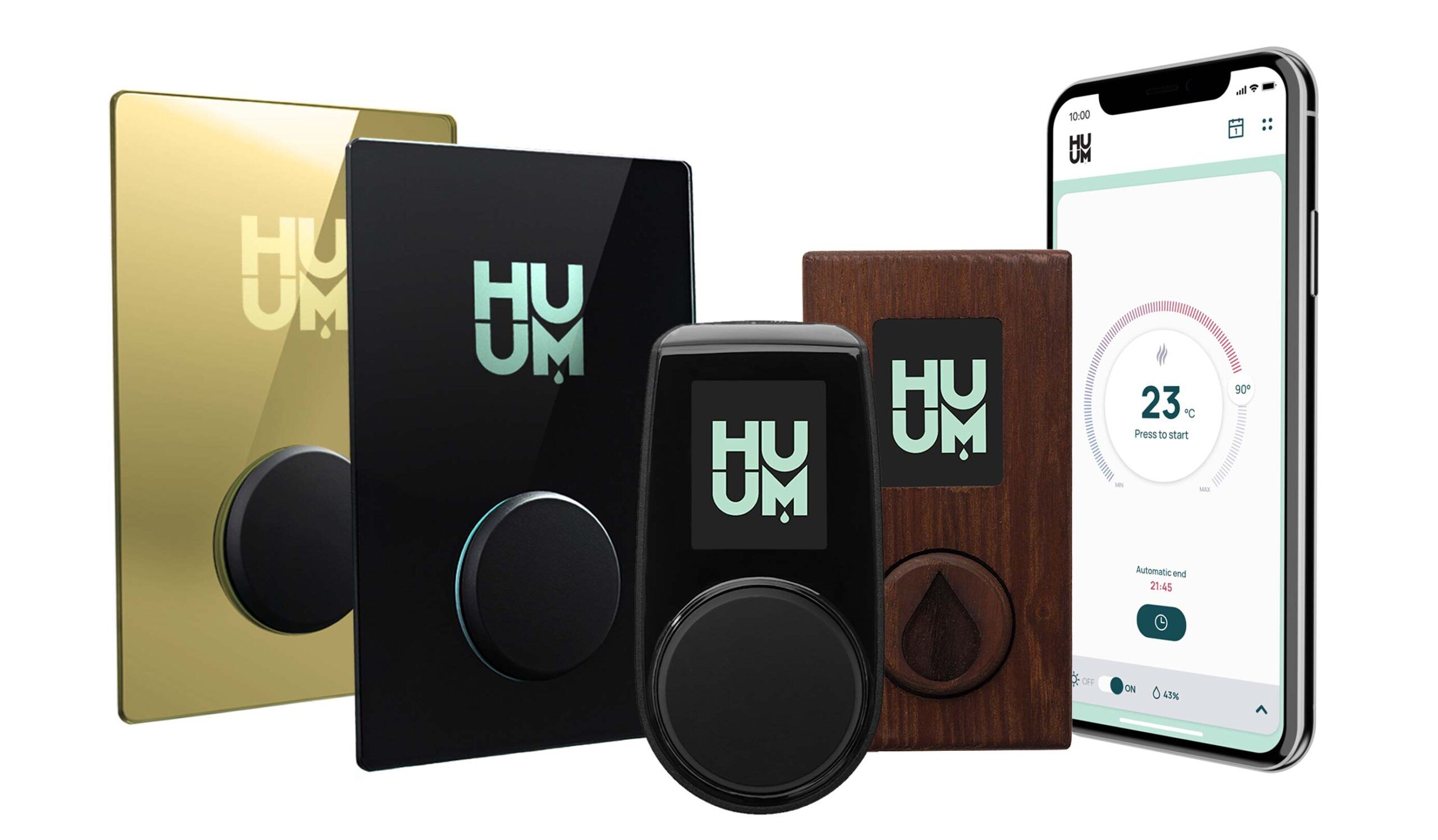 Local vs. mobile app sauna controllers
When it comes to choosing between the UKU sauna control system models, the most important question is whether you wish to control your sauna only through the controller or would you like to control it also using a mobile app.
If you are interested in on-the-spot use only, then UKU Local might be the right choice. In case you would like to explore the possibilities of mobile app remote control, read more about UKU WiFi model.
Using the mobile app to heat your sauna can help you save time, organize your day better, and find more moments for relaxing in the sauna. You could be anywhere and still have your sauna hot and ready by the time you want. All it takes is a few taps on your phone. Read more about heating the sauna through HUUM mobile app.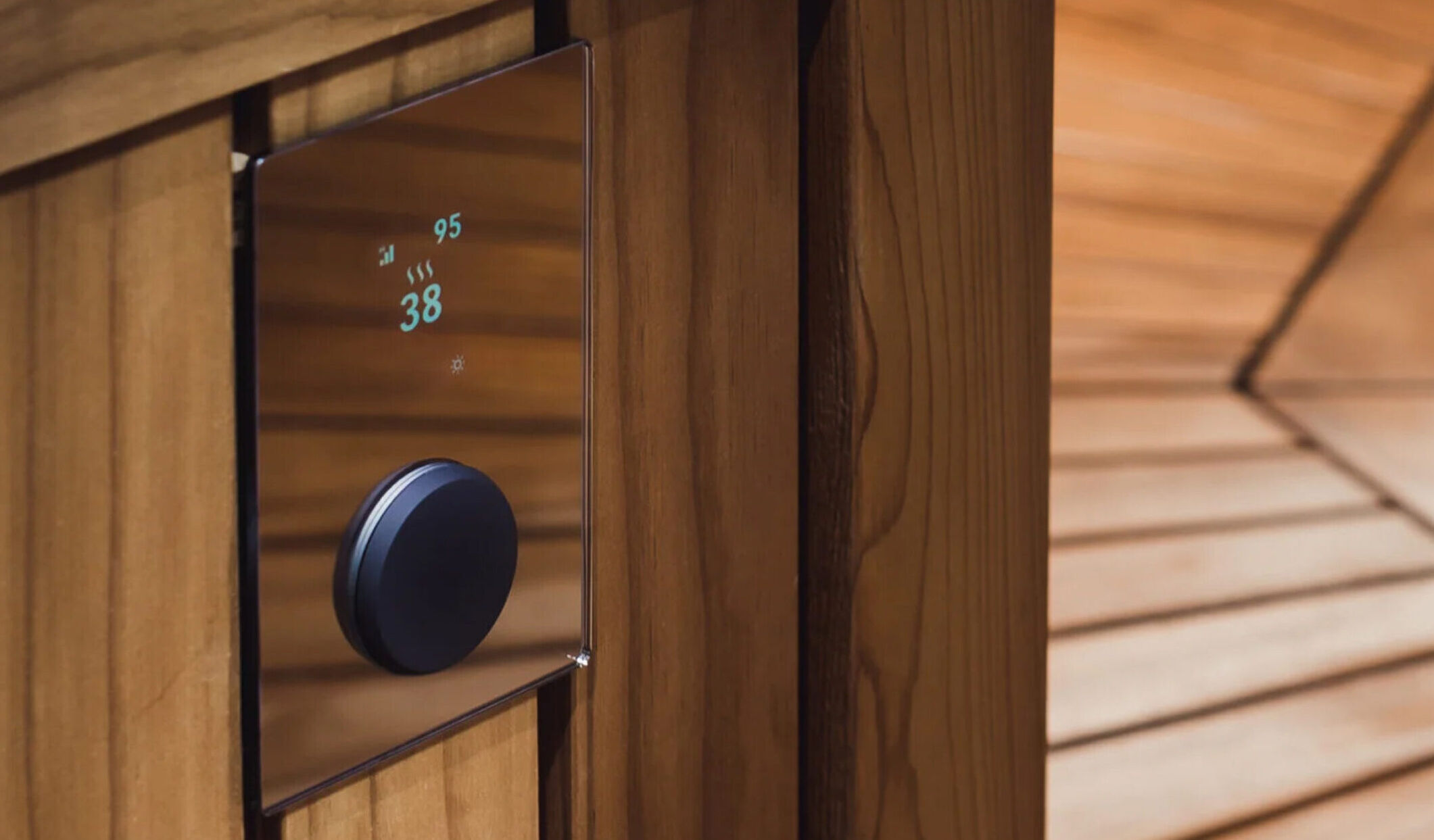 UKU Local – local sauna controller
As we already mentioned above, UKU Local is a good option for your sauna if you prefer heating it from the controller on the wall.
It is a good option if you simply want to use the remote control on the wall and you are not interested in heating your sauna from a distance.
It has all the features in common with UKU WiFi, the only exception being that you can't control it through the mobile app.
UKU WiFi – sauna controller with a mobile app
UKU WiFi can be used as a regular sauna controller on the wall. Additionally, you can connect it to HUUM mobile app on your phone and heat your sauna through the app.
In order for the controller to be able to communicate with the app, it needs to be connected to a Wi-Fi network.
It is suitable for places where there is already a Wi-Fi network, like homes, accommodation establishments, offices, etc.
UKU WiFi is unique among Wi-Fi sauna controllers for two reasons.
Firstly, your phone doesn't have to be connected to the same Wi-Fi network of the sauna to use the app. You can be anywhere and still start heating your sauna.
The second great advantage is that you don't need to connect the controller to the Wi-Fi router with cables or anything. It connects to the network in the same way as your phone or your computer. All you need to do is choose the right network and insert the password.
Conclusion
Choosing between the two sauna control system models comes down to whether you wish to heat your sauna only from the remote control or would you also like to do it independently of your location using HUUM mobile app.
Choose UKU Local if you simply want to use the remote control on the wall and you are not interested in heating your sauna from a distance.
If you would like to be able to heat your sauna also through the mobile app, choose UKU WiFi. UKU WiFi is suitable for saunas that are already in the Wi-Fi range.