The main benefit of this is you don't even have to be home to heat your sauna. You could be anywhere and have your sauna hot and ready exactly the moment you step in the door. This is a great advantage for many home sauna owners as well as accommodation establishments.
Continue reading and discover:
how heating the sauna from your mobile phone can benefit you and also your accommodation establishment;

what do you need to heat your sauna through the mobile app;

how HUUM mobile app works and what features it offers.
Save time with HUUM mobile app
 A HUUM sauna controller with the mobile app remote control option has two important advantages.
Firstly, it saves you a lot of time. Let's say heating the sauna takes about an hour. With a regular sauna controller, it would mean that once you arrive home you would still have to wait an hour before you can actually use it.
In moments when you need a hot sauna the most, you don't have to wait for it. Maybe you have just spent an entire day skiing or you're on your way back from a long trip. What could be more welcoming and regenerating than a hot sauna waiting for you the moment you step through the door.
With a mobile app remote control, you can start heating the sauna even without being home yet. You can just activate the sauna heater from your phone and spend that hour finishing up at work or exercising at the gym.
Harry from Finland wrote us this:
"Yes, I use the HUUM app frequently, in fact, I always switch the sauna on with the app, whether I am at home or not. When I'm sitting on the sofa – yes, why not switch the sauna on from the phone? When I'm in the garden – there's no need to go inside the house, I just switch it on while I'm outside. When I'm shopping in the city center, working late at the office or walking outside with my dog – why not switch the sauna on to have it ready by the time I'm back home? It's simple and easy."
A great opportunity for the owners of Airbnb apartments
Another useful aspect is that you don't have to be physically present to heat the sauna. Here lies a great opportunity for the owners of Airbnb apartments, guesthouses and other accommodation establishments looking to offer something special to their guests.
Adam Rang from Estonian Saunas is already using this smart sauna solution with his Airbnb guests in Tallinn. He provides his guests with sauna log-in information before their journey there. This way the guests can activate the sauna heater accordingly to their travel schedule and have a hot sauna waiting for them on their arrival. Also, during their stay in Tallinn, they can always set the sauna to a perfect temperature for their return to the apartment after having spent an entire day exploring the city.
HUUM mobile app works with UKU WiFi sauna control system
If you would like to heat your sauna with the HUUM app you first need to purchase the UKU sauna control system with that feature. So, you should have UKU WiFi control system model installed in your sauna. UKU can be used with any manufacturer's electric heaters as long as they work with remote control and have a temperature control function.
Once the controller is in place, all you need to do is download the HUUM app into your phone and connect it to your controller. To do that, just follow the instructions on the screen and insert your sauna controller's ID and code when requested. After that, you are ready to heat your sauna from the app and enjoy all its features.
Prepare your sauna experience with a few taps on the phone
HUUM mobile app is about more than just switching the sauna heater on and off. It provides several useful features for adjusting your sauna experience to your wishes.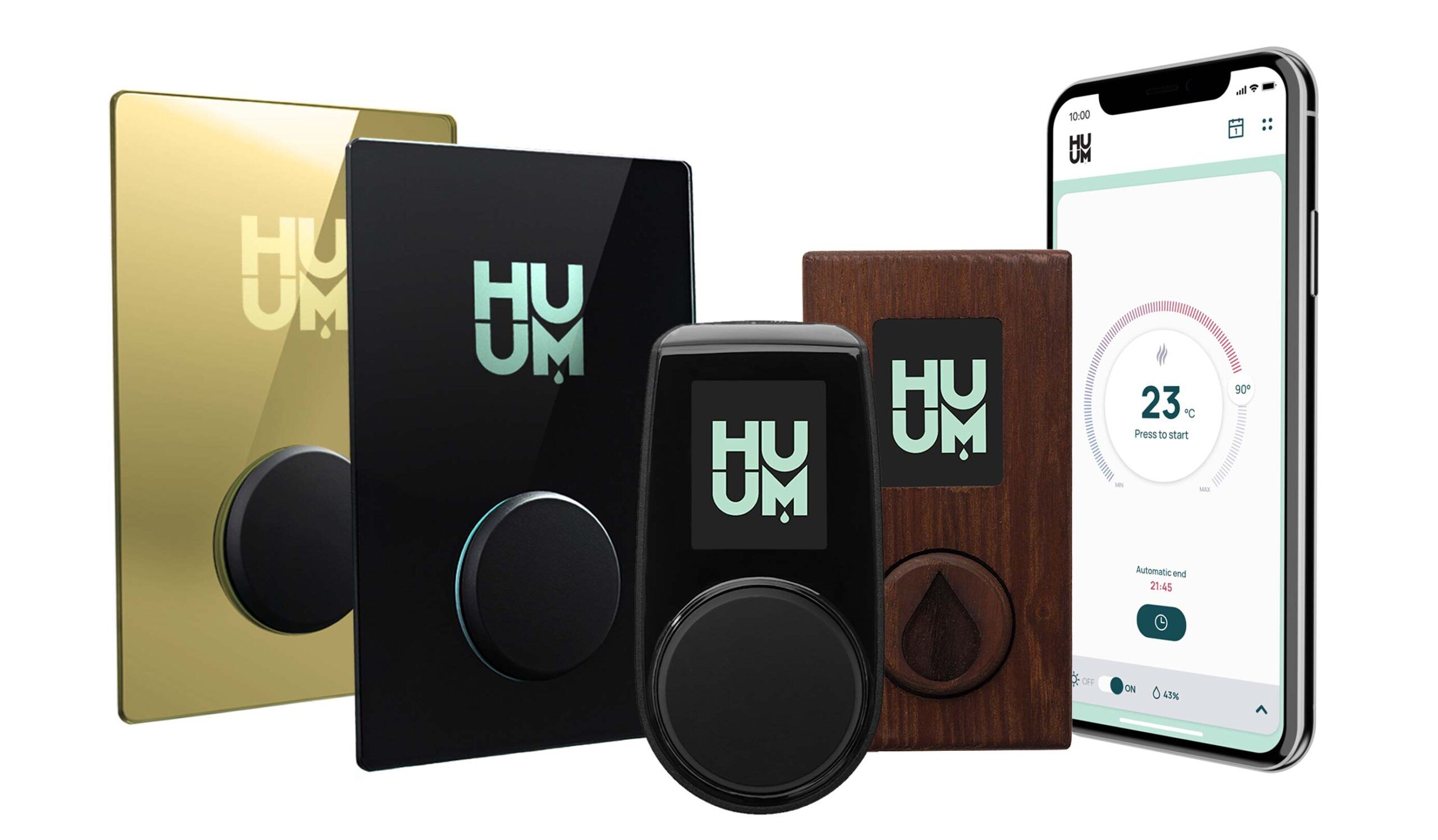 First, let's go over the basic functions:
When it comes to heating, you can choose the beginning and end time of the heating and set the desired temperature. Thanks to the door sensor of the UKU control panel, the app will know if you have left your sauna room door open and will not allow heating in that case.
While the sauna is heating, you can check the current temperature at any moment to see how it's proceeding.
If you already know exactly what time you need your sauna to be hot, the timer function comes in handy. Just activate the timer and have the sauna heated exactly by the time you arrive home from a workout or in time for a sauna party.
HUUM sauna controllers can be connected to the lights, ventilation and steamer functions which can be controlled through the mobile app as well. In order to do that you must first activate these functions from the control panel on the wall. 
The number of app users is unlimited. Anybody who has the sauna controller ID numbers can download the app and connect it to the heater.
This way all the family members can heat the sauna from the app and always see if the sauna is already being heated. Friends invited over for a sauna session can keep an eye on the sauna temperature to know if it is ready yet.
HUUM mobile app comes in the following 8 languages: English, Estonian, German, Finnish, Russian, Polish, Italian, and French.
Innovative sauna controllers for modern sauna lovers
If you value time and appreciate comfort, heating the sauna through HUUM mobile app might just bring your sauna to a new level. This easy and time-saving sauna controlling solution helps to better insert enjoyable sauna moments into a busy modern lifestyle. 
To find out more about HUUM mobile app sauna controllers take a look at the product page of UKU control system.   And since picking a sauna controller can be confusing, we dedicated a separate blog post to just this.