CLIFF Mini electric sauna heater
Electric sauna heaters
Environmentally conscious design
Mild and long-lasting steam
Control with mobile app
Warranty 5 years
CLIFF Mini electric sauna heater is a slimmer, wall-mounted version of the award-winning CLIFF heater. Inspired by northern coastal cliffs, this heater catches the eye with its stone-emphasized design. What makes both CLIFF heaters unique is their innovative and eco-friendly construction. The ribs of CLIFF heaters are created from cutouts generated during the production of STEEL electric heaters. This eliminates material waste and allows two heaters to be made from the same stainless steel sheet. Despite its slender form, CLIFF Mini can hold plenty of heating stones, providing a mild and long-lasting steam experience. The built-in air tunnel ensures fast heating. With a safety distance of only 6 cm from the walls, CLIFF Mini is easy to place even in smaller home saunas.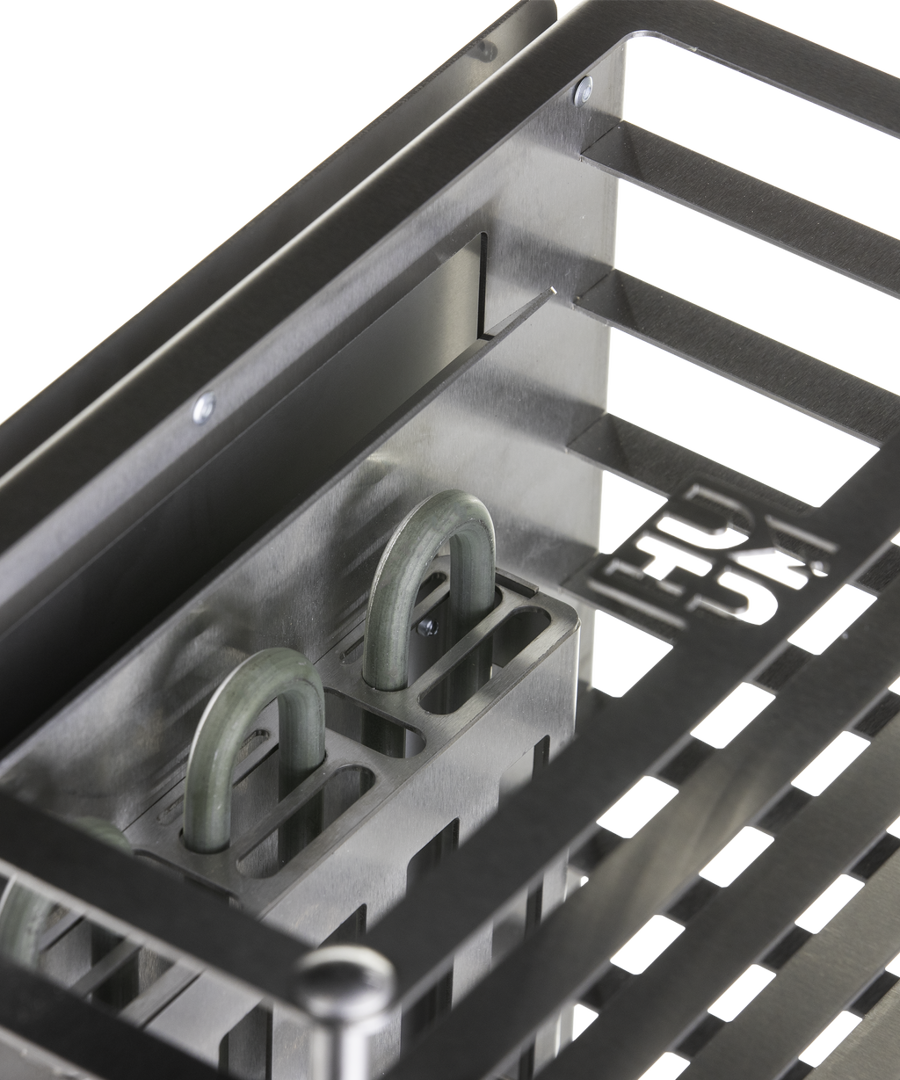 Sauna heaters for small steam rooms
CLIFF electric sauna heater has been developed with a focus on apartment saunas. It's a classy alternative for electric sauna heaters that hold a small amount of sauna stones and often provide sharp and abrupt steam. The compactness of this sauna heater doesn't mean any compromises on appearance.
Well-planned construction ensures the efficiency and small safety distances of the slim CLIFF sauna heater. Internal air tunnel ensures effective air flow and expedites sauna heating by 25%. In addition, it prolongs the useful life of the heating elements. You'll need 50 kg (110 lb) of sauna stones for mild steam. CLIFF electric sauna heater holds as much as 75 kg (165 lb) of stones, and the wall-mountable CLIFF Mini fits 60 kg (132 lb)of sauna stones.
Made in Estonia
HUUM app enables to heat the sauna from a smartphone

HUUM mobile app allows you to heat the sauna from your phone, wherever you are. It does not matter whether you are heading home from the office, are finishing your evening jog or simply wish to have an unplanned rewarding sauna evening with your friends – just a few clicks from the smartphone, and a hot sauna awaits you!

Classy and smart sauna controller

HUUM sauna controller represents an intuitive and efficient solution for heating the sauna. Sauna controllers are available with different enclosures, and their menu is simple and user-friendly. HUUM controllers heat the sauna through the smart UKU sauna control system. You can choose a suitable model, depending on whether you prefer to heat the sauna on site or via HUUM mobile app. UKU sauna control system ensures simplicity and safety of sauna heating, and it is compatible with electric sauna heaters of various manufacturers.